To view the full size stair nosing photographs, please click to begin the slideshow.
STAIR NOSING TRIMS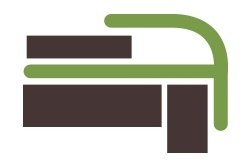 Senior Stair Nosing (14mm), Mid Stair Nosing (12mm), Junior Stair Nosing (5.5mm,6.5mm and 8mm)
Stair Nosing is a trim used for finishing of steps and staircases neatly. This trim is adhered to the edge of the step using permanent construction adhesive and mechanically fixed where required.
This is used as a transition trim to join step treads and risers (upright, vertical part of the step neatly). The trim accommodates expansion for both tread and riser, and has a top coverage of 14mm. The profile is available in 18 vinyl wrapped wood colours and 4 metal colours Bronze, Champagne, Rose and Silver. (As shown below.)
The Stair Nosing Trim is designed for use in domestic and commercial applications. These are available in 3.4 metre lengths.